How do I transport my kayak on a vehicle?
When transporting your kayak / SUP, take care to avoid potential damage or distortion to the hull. A good rack system allows you to transport your craft on your vehicle safely and securely. When transporting a composite FG or thermoformed ABS, you will want to add some foam padding to your roof rack or invest in a padded cradle. Remember… damage caused by flying off cars and/or deformations caused during transport are not covered by the warranty.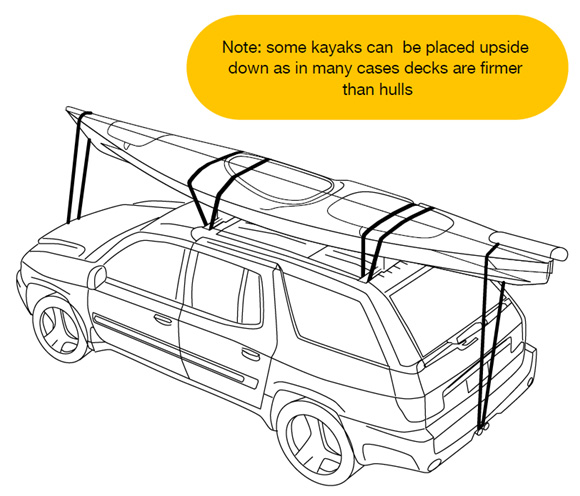 ​
To avoid loss or damage, remove all accessories before transport.
For your safety and to avoid unnecessary scratches on your car, all but the shortest crafts should be car-topped by two people, and a quality roof rack should be used. Practice common sense lifting techniques using your legs, not your back-to raise the craft onto the rack.
Once the craft is on the roof rack, use a pair of straps or ropes to secure its mid section to the roof rack. Boat should be secure but take care not to overtighten.
Each end of the kayak should be tied to the bumpers of the vehicle. However, be careful not to cinch these bow and stern lines too tight.
Also to avoid deformation, do not leave the craft tied to the vehicle foran extended period of time or in the hot sun.
If your kayak extends more than 3.5 feet (1 meter) behind your vehicle attach ared flag to its hanging extremity to alert fellow motorists. To transport multiple kayaks, use a stacking bar and appropriate padding, placing each kayak on its side, with hull against hull to prevent deformation.
After a long day on the water, DON'T FORGET OUR KAYAK IS STRAPPED ON THE ROOF. You do not want to drive into the garage withit still on the rack. It may sound strange… but it happens.